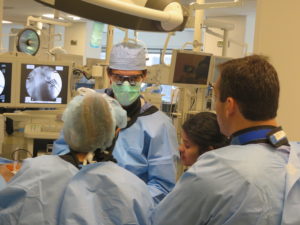 The American Board of Neurological Surgery (ABNS) determines the certification process by which a program may be accredited to train residents in neurosurgery. To become board certified, an individual must have graduated from an accredited medical school and have completed a neurosurgical residency training in a program that is accredited by the Accreditation Council for Graduate Medical Education (ACGME). There is a prescribed formula of minimal requirements for neurosurgical residency and training.
Residency Training Requirements
Eighty-four months of neurosurgical residency training in ACGME-accredited programs under the direction of a neurosurgical program director must consist of:
54 months of core clinical neurosurgery, including:

12 months as chief resident during the last two years of training (PGY-6 or 7); 21 months must be spent in one program
Three months of basic neuroscience (neurology, neuro-otology, neuroradiology, neuropathology, etc.) taken in the first 18 months of training
Three months of critical care relevant to neurosurgery patients taken in the first 18 months of residency
A minimum of six months of structured education in general patient care (trauma, general surgery, neurosurgery, orthopaedic surgery, otolaryngology, plastic surgery, etc.)
21 months must be spent in one program

30 months of electives (neuropathology, neuroradiology, research and/or more neurosurgery) possibly in areas of special interest such as complex spine surgery, endovascular or pediatric neurosurgery and/or clinical and non-clinical neurosciences.
Outside rotations of six to 12 months at an ACGME-accredited program may be counted towards the core 54 months of neurosurgery training. The program director must request credit from the ABNS prior to the rotation.
Credit towards the 30 months of elective time may be requested by a program director for prior educational experiences, such as a PhD in a relevant subject, clinical rotations other than fellowships obtained at non-ACGME accredited programs and neurosurgical training completed outside of the U.S., particularly if the resident is certified in that country. Written requests submitted by the program director to the ABNS must contain a complete description of the experience and justification of the request.
The Board will evaluate ACGME case log data as a measure of the breadth of resident experience at the completion of residency training.
One year must be as the chief resident, during which the trainee must have major or primary responsibility for patient management, as well as administrative responsibilities. This level of responsibility varies among residency programs but is a crucial element of training. It prepares the individual to assume, in a graduated fashion, responsibility for patients and their complex neurosurgical problems. The 30 months of elective training can be divided among neuropathology, neurology, neuroradiology, additional neurosurgery and research. These additional months give programs a character and flavor that make them unique.
In some institutions, these months are largely spent in the laboratory. In others, there may be an exchange program with other institutions. It is important to assess each program, and learn how it structures these months. All neurosurgery programs are under the auspices of the ACGME, and as such, are bound by their rules including the 80-hour work regulations. Training in neurosurgery is progressive, requiring graduated experience and increasing responsibility.
Once residency training is complete, you should begin planning your timetable to complete your primary Board Certification. It is important to remember that certification by the ABNS requires general knowledge of all aspects of neurosurgery, not only your particular field of specialization. In addition, the Board now issues time-limited certificates that must be renewed every 10 years through the maintenance of certification (MOC) process. Information about both processes is available at www.abns.org.