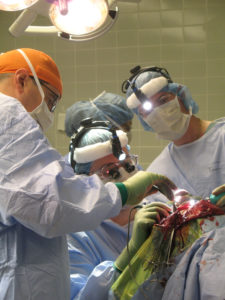 Neurosurgery is the discipline that focuses on the diagnosis and treatment of disorders of the brain, spinal cord and peripheral nerves and their supporting vasculature. It is first and foremost a surgical discipline but requires a significant knowledge of neurology, critical care, trauma care and radiology. It is a discipline that focuses on a complete system rather than any specific region of the body, and a neurosurgeon may operate on the brain, spine or extremities in any given day or week. Neurosurgeons operate on patients of all ages, treating abnormalities that range from congenital anomalies of a newborn to trauma, tumors, vascular anomalies, seizures, infections and abnormalities of the aging, such as stroke, functional disorders or degenerative diseases of the spine. The primary focus of the neurosurgeon is on surgical approaches for the treatment of their patients.
Neurosurgery is among the youngest of the surgical disciplines dating back to the early 1900s. The early greats in neurosurgery were well-trained general surgeons who specialized in the nervous system. Many were also creative scientists who used their expertise in neurophysiology to become expert clinicians. Neurosurgery continues to rapidly evolve. Important aspects of neurosurgery are research, technology and the dissemination of new ideas and techniques. Today, neurosurgeons practice in a variety of locations, from academic centers to community hospitals and outpatient surgery centers, to major research facilities such as the National Institute of Health (NIH).
The community of neurosurgeons is relatively small. In the U.S., there are about 3,500 practicing Board-certified neurosurgeons and just over 100 residency training programs. In 2018, 110 neurosurgery residency training programs accredited by the Accreditation Council for Graduate Medical Education (ACGME) offered 225 positions. Neurosurgery residents are trained to perform all types of neurosurgery, including neurocritical care. Subspecialization with enfolded or post-residency fellowships can be pursued in pediatric neurosurgery, spine, neurointerventional, cerebrovascular/skull base, neuro-oncology, pain, trauma and functional neurosurgery.
Like many specialties, neurosurgery strives to attract the best and brightest candidates graduating from accredited medical schools. Men and women considering a career in neurosurgery should have the intellectual curiosity and ability to embrace and understand the detail and complexity of the nervous system. They must have the personal and physical stamina to meet the challenges of a demanding residency and surgical procedures that often extend for many hours and the desire to pursue excellence, as this is a specialty of high acuity with tremendous consequence.
Because the number of residency positions is limited, most students granted acceptance to a neurosurgical training program are exemplary and generally rank at or near the top of their class. Neurosurgery appeals to those individuals who are drawn to the intellectual challenge of constant learning coupled with a strong desire to cure neurosurgical disease; those willing to make difficult decisions and take responsibility for critically ill patients. No two operations are exactly the same, and much time is spent considering the various options before choosing an approach to a problem. Stress and the challenges of dealing with severely disabled and dying patients are every day occurrences for neurosurgeons.
Click below for a list of surgical procedures that are performed by neurosurgeons.
Visit the Young Neurosurgeons Committee (YNC) page to find more aobut YNC meetings, projects and news.
AANS Young Neurosurgeons Committee
Click below to access the Neurosurgical Atlas for information on surgical pathology and operative technique.